Schedules available from Geoff & Isabel, 01228 561434 or download: Cover pages and Schedule Classes
Notice of WCA Annual General Meeting to be held in the Wetheral Village Community Hall at 8.00pm Thursday 11 May 2023 Members of the Wetheral Community Association Ltd are invited to attend the annual general meeting. The agenda for the ...
To all Wetheral Village Hall User Groups At this time when everything we read or hear in the media is about inflation and increases in the prices of all goods and services, we felt that we should review our own costs and put together a forecast ...
  Schedules available from Geoff & Isabel, 01228 561434 or download: Cover pages and Schedule Classes
Forthcoming events Wednesday 19th June 7pm: Wetheral WI Centenary Meeting . An interesting talk 'Womens Voices WW1-Present Day' by Jules Wooding. In attendance, our new mayoress and Wetheral ward ...
The Community Hall Grapevine WHAT A START TO MAY INDEED! Friday 3rd-Monday 6 th  May:  'Art For All'   A very successful weekend event with some wonderful artwork on display. Many thanks to Val Lowe and ...
DON'T MISS THE VILLAGE BANK HOLIDAY WEEKEND! see information below also coming to the Village Community Hall this month.... . Thursday 9 th May 7.30pm:  'Naming The View' A Highlights production. For those in the community who ...
Forthcoming events DON'T MISS THIS! Friday 12th April 2pm-5pm: Easter Workshop . Carlisle Central Committee. Come to the Hall and join in with the popular Easter wreath making afternoon. Materials and light refreshments included. What ...
FORTHCOMING EVENTS Saturday 16 th March 7.30pm: The Cockney Temple Dancer A Highlights production. SORRY! SOLD OUT. For those of you lucky enough to have a ticket for this performance please remember that there will be no bar ...
Latest News : TWO NOT-TO-BE-MISSED WETHERAL COMMUNITY EVENTS!!! CHILDRENS PARTY Saturday 22nd 3pm-5pm YES IT REALLY IS NEXT WEEK! RETURN OF THE FREE ANNUAL CHILDRENS PARTY FOR RESIDENTS OF WETHERAL! Disco, refreshments, crafts, ...
Current News At the end of August our long standing, thorough and meticulous treasurer, Angela Regester , retired. She has been on the management committee for many years, watching over the very tight finances of the original Village Hall and, ...
A big thank you to all those who have contributed time, made donations and attended many village events before, during and since the building of the new Village Community Hall; especially those who clean, tidy, place flowers and replace books often ...
Built for the community and run by volunteers from the community. A big thank you to all those in the village who have contributed time, made donations and attended many events over many years before, during and since building the new ...
NEWS FLASH!!! WE ARE VERY PLEASED TO ANNOUNCE.... The Village Community New Years Eve is finally arranged, with a Ceilidh group 'STILL REELING'. Tickets £15.00 adult, £10.00 12-16 yrs under 12 free. December 31 st. Doors ...
Current News Friday 22 nd September 7.30pm : Flamenco Flow . The Highlights production featuring world famous guitarist Ricardo Garcia and accompanied flamenco dancer was mesmerising! This was a memorable performance from both very ...
Current News Saturday 9th September : Wetheral Village Show . Thank you to all those who attended the Village Show this year. There was a very good range of entries in every class, with a total of 517 entries. A lot of visitors came to see ...
WELL DONE ISABEL AND GEOFF FERGUSON! A great night was had by all at 'A Taste of Italy', an Italian cookery demonstration followed by dinner on 16 th May. Over £1000 was raised towards a much needed whole community Multi Use Games Area and a ...
VOL*NTEE*S! What's missing?....U R! The Village Community Hall was built with money raised by our village community; it is run by volunteers within the community as a facility for the whole village community to enjoy. If you use it, ...
Thursday 16 th March. At the performance of 'She Wins All The Races', forty people were given a tremendous performance from Shelley O'Brien. In fact, she held the audience in such a way that, several times throughout the performance, there ...
Thursday 16 th February. The very professional and talented quartet of musicians for the Tomassso Starace Jazz evening was well attended.  Thanks to Ann and Paddy Sherman who ran the bar. A total of £96.00 was raised for WCA. STOP PRESS ...
We are continuing our successful link with Highlights, an Arts Council funded project, which gives an opportunity for professional groups to perform in rural communities.  There is an opportunity twice a year to make a selection of possible acts for ...
REALLY GREAT NEWS! We have just heard from the Parish Council that the North West Ambulance Service rang to inform them that a man's life was saved at the Hall last night, using the attached defibrillator. Now that IS a great way to start ...
We are very pleased to say the Christmas Fayre and Santa Grotto raised just over £1,900.00. Thank you to all those who attended, enjoyed and contributed to the fund!  A great sum which will go towards the cost of necessary additional baffles in the ...
The Oliver Meech production 'When Magic and Science Collide' Thursday 24 th November 7pm is now sold out! Doors open 6.30pm.   Thank you to all those who have offered to help with the erection of stage and seating. We keep saying this, but it ...
First of all, thank you to John Robinson for volunteering so quickly for the job share with Colin James in The Grotto on Saturday 26 th November !  Probably the most important job in the year at the Hall - for the youngest members of our ...
FIRST OF ALL A BIG REQUEST! Very soon it will be the Christmas Fayre (Saturday 26 th November) with all the fun that is involved with that! We have a very popular Santa Grotto with a very important person to visit. Our 'special person' has ...
The Village Show Congratulations to all those of all ages who exhibited wonderful flowers, fruit and vegetables, to all those who painted, stitched and photographed; many, quite rightly, achieving awards, cups and trophies! Thanks to all the ...
Events not to be missed at your Village Community Hall NOT LONG NOW! Wetheral 54th Annual Show. Saturday September 10th 2pm. To be opened by Tommy Hogg, horticulturist and Garden Centre Manager. This year there will be an addition to the ...
Sunday 31 st July saw a return of the Great Summer Village Rounders Competition! Great fun was had by all who attended the afternoon. £850.00 was raised for Carlisle Riding Association for the Disabled. Many thanks to Wetheral Village Stores, ...
FUTURE EVENTS AT YOUR HALL September Saturday 10 th    2pm    The Wetheral Village Show Admission: £1.00 adult 20p child Show your skills with fruit, flowers, vegetables, art, craft and photography.   All ages can join in ...
The Village Rounders Tournament will be held at Wetheral Playing Field this coming Sunday, 31st July!         GREAT FUN for all the family with : Bar, BBQ, Prosecco Bar, Ice Cream, soft drinks.        Watch the fun rounders ...
Current news from the Hall We are setting up a book swap in the Foyer of the Halland collecting books in good condition for all age groups. To contribute books, or join in with this venture, contact Jane James 560301  Village Community ...
Forthcoming Events The Dukes Saturday 11 th June 7.30pm.  SO SORRY! DUE TO LACK OF TICKETS SOLD, THIS EVENT HAS TO BE CANCELLED. Many thanks to The Dukes and those who did buy tickets, for your understanding in this matter; ...
Current Hall Update A Temporary Overflow Car Park has been created in the field behind the Hall car park. It is hoped that this additional space will help to ease parking and road safety problems for the playing field and the Hall at peak ...
Art Exhibition  28 th April-2 nd May The Exhibition had a large display of work by talented local artists, much appreciated by all who visited the Hall over the weekend. The Exhibition raised £1000 for the Parish Church by the generous commission ...
IMPORTANT WEEKEND DATES FOR YOU!   Friday 29th April-Monday 2nd May Not one , but two community events for you to visit!   12th ANNUAL ART EXHIBITON in the Village community Hall 11am-5pm Doug Scott to open Thursday 28th 6.30pm ...
Saturday 27th Feb The Pudding Night was a delicious success for all who attended.  Several boys could not believe their luck with the opportunity to eat so many different puddings! (Holy Trinity Church event)   DON'T MISS Thursday 10th March . ...
Fireball Rock  Saturday 6th February Thank you to all who helped, particularly Amanda at Alans Hairdressing who sold tickets and danced the night away! £600 was raised for WCA fund   THE PUDDINGS EVENING  this SATURDAY (27TH FEB) 6-00pm-8.30pm ...
Thank you to all those who came to the Table Top Sale, Sunday 24th January.  £304 was raised at this very sociable afternoon!   There will be two defribrillators in the village soon, one at the village Hall and one in the old phone box by the ...
Hello and Happy New Year to all! New year in the Village Community Hall was once again celebrated by a lively group of all ages, dancing to the celebrated ceilidh group,  'Thrice Brewed' .  A great way to welcome in 2016! Thank you to all who ...
News from the Hall.... It is hoped to have a main external sign, situated on the road B6263, within the next few months subject to planning application. There is also an application to the  County Council to consider the provision of a ...
Well done to Hilary and David Keers , raising just over £900 towards a new stage for the Hall at the Village Quiz Saturday 17th October. Thank you to all those who made Lasagne, cakes and donated raffle prizes, BIG thank you to Stuart Coe and ...
September Sunday 20th ...
We are pleased to announce .. there are now more weekly regular users in the Village Community Hall. Take a look at the list in the foyer for daytime and weekly activities to suit every age! THANK YOU TO ALL THOSE WHO HAVE VOLUNTEERED TO HELP ...
THE WETHERAL VILLAGE SHOW Well done to Sue Oliver and her team of helpers! Entries for many classes were up from last year, with some wonderful examples of talent from all ages in the village. The whole afternoon was a great sociable event with ...
Hi All! What a great afternoon last Sunday! Rounders Knockout on the village playing field was a whole community and family event and a lot of fun...whether it was watching all those who took part (well done those in fancy dress!) ...avoiding ...
DON'T FORGET...Tomorrow..Sunday 23rd  pm CHARITY ROUNDERS AND FUN IN THE FIELD! All proceeds to the Village Green Maypole repair.   COMMUNITY VILLAGE HALL AGM Thursday 27th August 7.30pm.... All welcome! Come along to find out the Hall facts ...
First of all... A BIG APOLOGY for the major typo error on the WCVH newsletter that came through your door recently... The front page should read.... The WCA Annual General Meeting will be held in the hall on THURSDAY 27TH AUGUST 7.30PM Do ...
Village Fete Saturday 4th July Many thanks to Hilary and David Keers for organising a very successful day with the help of many volunteers, who gave their time, energy, produce...and sometimes their electricity too!  Also a big thank you to Jack ...
FORTHCOMING COMMUNITY  EVENTS   Olly Alcock Rock/Blues Night Saturday 30th May 7.30pm doors-open 7pm BAR PROVIDED. Tickets now available! £6.00 each, available from Helen 560366.  Avoid disappointment, book quickly...this is a very ...
Landscaping round the Hall Thank you to all those who turned out on a wild, wet and windy Saturday to help plants trees and shrubs; in some cases after a hectic evening and a late night..... So good was the team that after an hour, the majority ...
Announcing the next musical/dance night ..... Ollie Alcock and his Blues/Rock Band ! To be held in the Village Community Hall, Saturday 30th May . Tickets £6.00 ...doors open 7.30pm. Bar provided For those who have not experienced an Ollie ...
The latest edition of the Grapevine  Acoustics in Main Hall Thank you to all those who have responded positively to the new baffles. We hope they will be sufficient for all types of community use. If you use the hall and find their is still a ...
  Acoustics in the Main Hall On Thursday 19th February a technician from a company based in Bolton attached acoustic boards to the ceiling of the main hall. They are not too intrusive and, we hope, they have significantly reduced the problem of ...
Village photographs Many thanks to all those who have already searched through their albums, boxes and files forpast images of village events, activities and scenes. Please keep them in a safe place with your name, address and any relevant details. ...
The January edition of the graphvine is available here .
Welcome to our brand new website ... designed and developed by Kierweb . Hope you find the site useful.  Please let us know of any changes or corrections you think should be made.
Hire the Hall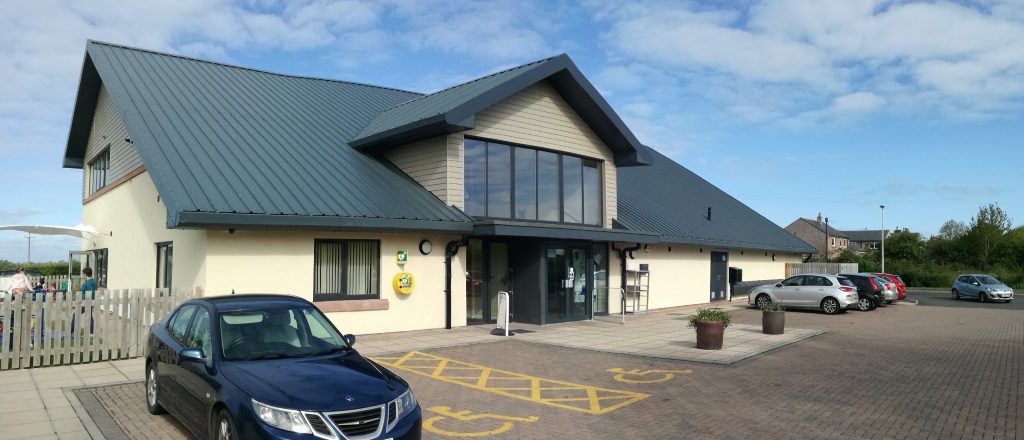 The Wetheral Village Community Hall makes an attractive and convenient venue for meetings, conferences, exhibitions, indoor sports and all kinds of social events including parties and weddings.